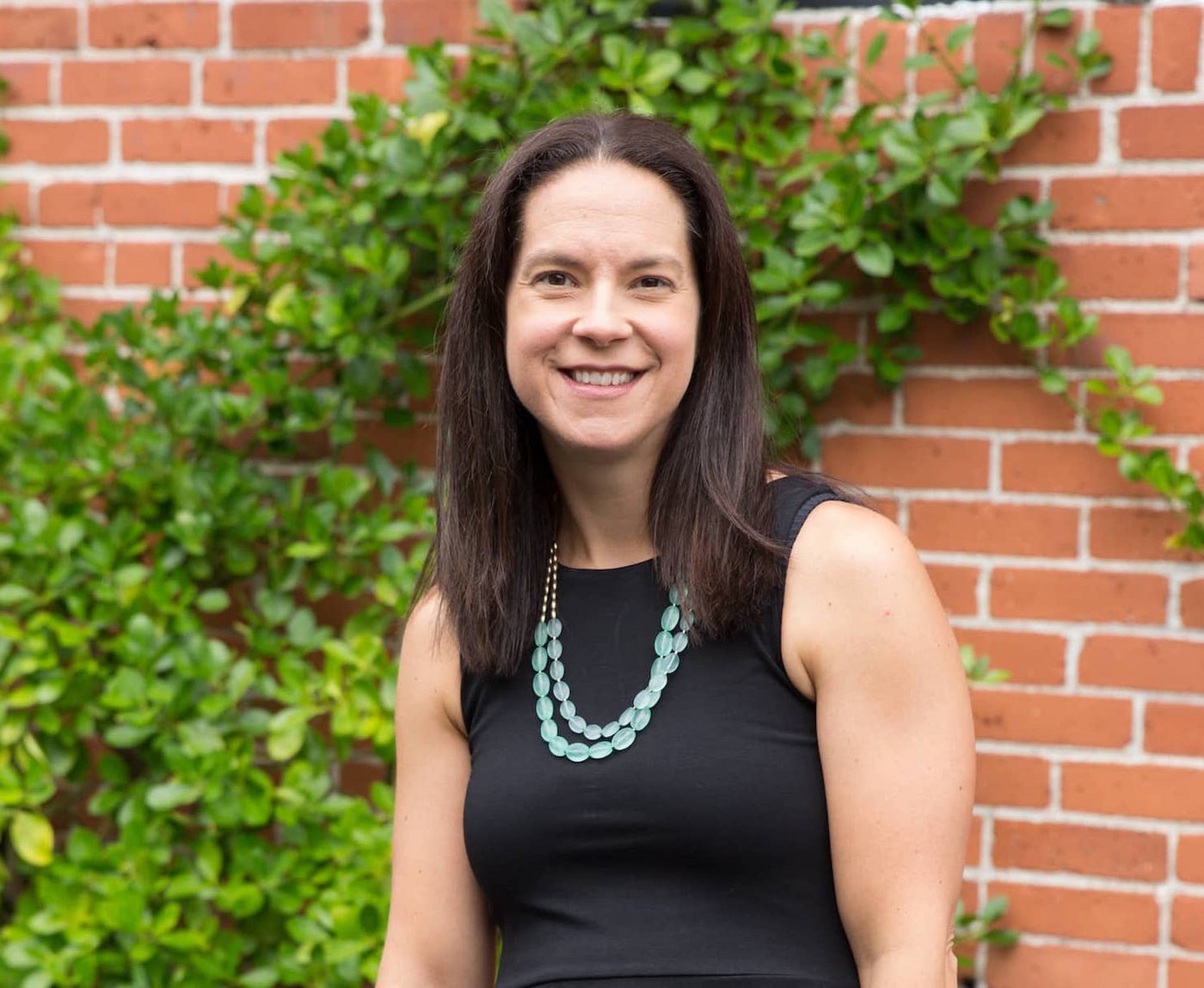 What is Gap Insurance and Why Do I Need it?
Personal Auto | Individuals & Families | Business Insurance | gap insurance | Learning Center | Business Auto
If you've ever bought a new car or taken out a lease on a new vehicle, you've likely heard of gap insurance. When you were filling out your loan/lease paperwork, you were told that you should buy this from the dealership, but may not have been given a good explanation of what it is.
At Berry Insurance, we talk to clients every day about GAP insurance – what it covers, how much it costs, and when you should buy from the dealership versus adding to your Massachusetts auto insurance policy. (Yes, you read that right – we might want you to buy it from someone else!)
GAP insurance is very inexpensive when added to your auto insurance, but is pretty costly when purchased from the dealership. However, there are differences between the two. Let's dive in!
What is GAP insurance?
Your Massachusetts auto insurance policy will pay the "actual cash value" of the vehicle if its involved in an accident. It does not pay to replace the vehicle. This is an important distinction to understand.
As soon as you drive the car off the dealership parking lot, the value of your vehicle has depreciated. If you are involved in a total loss or your car gets stolen, the insurance company will pay you the actual cash value of the vehicle at the time of the accident. If that value is less than your loan or lease amount, you could end up still owing the bank. GAP (also known as "guaranteed asset protection") insurance fills in this "gap" to pay that difference.
Let's look at an example:
You buy a 2019 Toyota Sienna for $35,000 and finance it with Toyota Motor Credit.
You finance the car with a 72 month (6 year) loan, plus 3.99% APR. Your monthly car payment is $548.
After 2 years you've paid a total of $13,152. You still owe $26,304.
You are unfortunately involved in a car accident that totals your vehicle. Your insurance company will pay you the actual cash value of your vehicle. Let's say that is $23,000.
Without GAP insurance, you'd owe Toyota Motor Finance $3,304.
With GAP insurance, you'd owe them $0.
GAP insurance is not automatically covered on an auto policy. It must be added via an endorsement to your policy, when eligible.
Here's a sample of what the coverage looks like on a Massachusetts auto policy: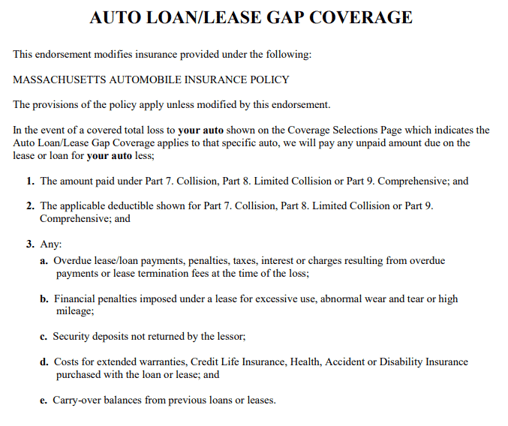 Who is eligible to buy GAP insurance?
GAP insurance can be added to an auto insurance policy within 30 days of purchase of vehicle. But it's important to note that if you have an accident before that 30 days is up, and you haven't added the coverage yet, you will not be able to add it after the accident.
You also must have bought the vehicle using a loan or lease, and the vehicle must be 5 years or newer to be eligible.
Do I have to buy GAP insurance?
No, it is not a Massachusetts state requirement that you purchase GAP insurance. But if you lease a car, you might be required by the leasing company to carry that coverage.
You would need to review the terms of your lease to determine this. If you're interested in learning more about how your auto insurance can be affected by leasing a car, check out his article: Buying vs. Leasing a Car (And How it Affects Insurance).
How do I know if I need GAP insurance?
Unfortunately, there is no way to know what the value of your vehicle will be at the time you have a claim. You can check out Kelley Blue Book to do some research and get an idea of what the depreciated value of your vehicle might look like. Or if you put down a large down payment, you might never be upside down (owe more than the car is worth) on your loan if an accident occurs.
How long do I need to pay for GAP insurance?
There is no set length of time for buying GAP insurance. Typically we see most clients having the coverage for the length of their car loan or lease. Basically, until the car is paid off. You can remove coverage at any time. Some clients choose to do this when they feel that the value of their car is more than what is still owed on their loan.
What is the cost of GAP Insurance?
If you add GAP insurance to your Massachusetts auto insurance policy, you can expect to pay an additional $25-$50 per year.
If you elect to purchase the coverage through the dealership/finance company, the cost will vary depending on the MSRP, loan term, amount financed and APR. Typically it can run you $500-$750.
Many dealers and finance companies will try to "bundle" GAP insurance into the cost of your monthly loan or lease payment automatically, so be sure you ask before finishing up your paperwork.
Why is GAP insurance more expensive through the dealership?
The GAP insurance offered through the dealership will likely provide additional coverage that is not available with your auto insurance policy. These additional coverages are what drive the costs significantly higher.
For example, the GAP insurance from the dealership typically will pay your deductible expense when the accident was your fault. Your insurance policy would only pay the deductible when you are not at fault.
In addition to this, the dealership's coverage will pay up to a specified amount of negative equity. Negative equity is created when your car is worth less than what you owe on it. Many times, when trading in a vehicle to buy a new one, a dealership will let you add that negative equity amount into your new car loan.
Let's look at the following scenario:
You buy a 2019 Toyota Sienna and finance it with Toyota Motor Credit. You traded in a 2017 Dodge Caravan, which still had $10,000 left on the loan.
The dealership sets up your new loan for your new vehicle, and rolls in the balance of your old loan as well.
If you are in an accident and your new Sienna is totaled, the dealership's GAP insurance will pay for the difference in the actual cash value and the loan amount for the Sienna, plus that $10,000 balance on your old loan.
Another thing to keep in mind is that when you buy GAP insurance through the dealer, it is financed with the rest of your car payment, which means you are paying interest on this coverage as well, for the length of your loan.
Can you cancel GAP Insurance?
When you buy from the dealership, not likely.
You will be paying the cost for the insurance plus interest for the entire term of your loan. When you buy through insurance, you can cancel at any time you feel necessary to do so.
Is GAP Insurance Worth It?
Honestly, it depends.
Even if you are the safest and most conscientious of a driver, others on the road might not be. Not having GAP insurance could leave you unprotected should you become involved in a total loss accident, leaving you with a large balance owed to your finance company. For that reason alone, we always recommend it.
Conversely, if you do not have a loan or lease, you won't need the coverage at all.
GAP insurance is confusing, we get it. At Berry Insurance, we love helping our clients figure out what the best option is for their unique situation. Sometimes that is buying the coverage through us, sometimes its buying it through the dealership, and others, its not buying it at all.
We'd love to chat with you more about your situation to help you determine what makes the most sense for you. Contact us today to speak more about the setials of your current auto policy.
Wondering other ways you can save money with your car insurance? Learn the best ways you can save by checking out our top tips: 13 Ways to Save On Your Auto Insurance.