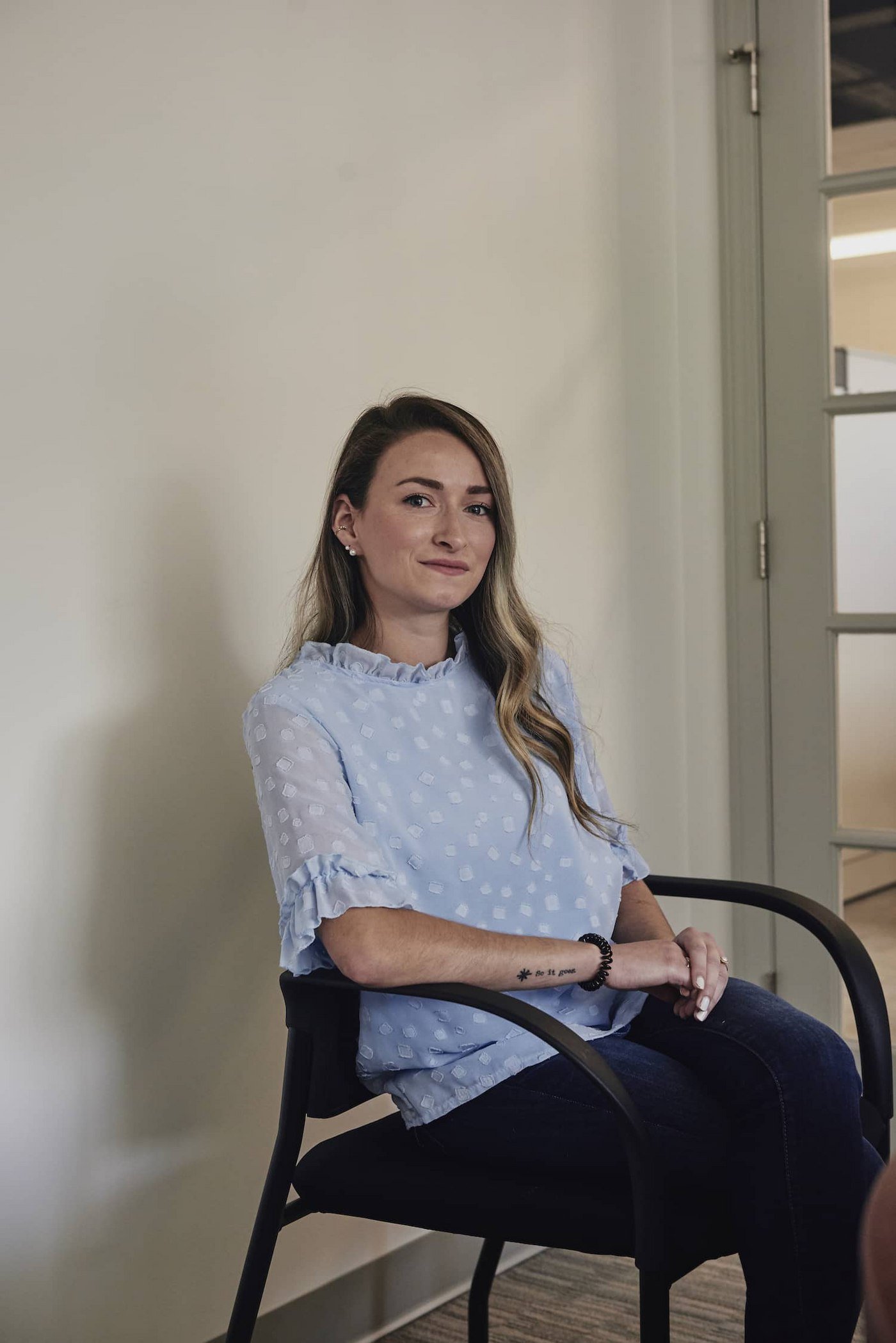 Commercial Lines Account Manager FAQs: What to Consider when Applying
Team Berry Insurance | Team Berry Insurance | Commercial Lines Client Success Manager
If I had to take a guess, you didn't just navigate to this page for some light reading. You're probably here because you're considering applying to a Commercial Lines Account Manager role.
And if you are planning on applying, you probably have lots of questions. Well, we want to answer those questions as effectively as possible for you. Let's be honest: both job hunting and recruiting can be tiring, and neither of us want to spend a large chunk of time on an interview process just to realize way down the line that it just isn't the right fit.
So in this article, we want to tackle some of the main questions on your mind so you can decide if you are interested in the role. Then when you come into the office to interview, we can dive deeper and really get to know each other so we can determine if Berry Insurance is the right fit for you and if you are the right fit for Berry Insurance.
So let's get into it!
What does a typical day look like for a CL account manager?
The Commercial Lines Account Managers here at Berry Insurance balance many varying tasks every single day.
Some of these tasks may include: updating/renewing policies, managing payments, managing claims, answering insurance policies, navigating policies, participating in team meetings, and other tasks.
But for more detailed insight, we have another resource for you. In fact, one of our commercial account managers wrote an article on this exact topic. To learn more, read this article: A Day in the Life of a Berry Insurance Commercial Lines Account Manager.
Does the agency write anyone and everyone, or is there a minimum standard as far as coverage limits and overall risk?
The short answer is: we don't write everyone and it doesn't always have to do with coverage or risk. We're looking for long lasting relationships, not a one-and done deal. If a potential client proves too difficult to work with we simply won't do business with them. We have had to say no to business because the risk was too great. We do make every effort to find a carrier for every prospect who comes to us, but if we aren't able to we try to offer possible options even if it's not with our agency.
The same goes for coverage limits. We won't sacrifice coverage to land the account even if the client requests this. There are minimum limits we have in place as an agency and we won't put ourselves or our potential clients at risk.
What is your approach or philosophy when it comes to marketing?
Our marketing approach is a little less "marketing" than that of other companies. Rather than traditional marketing and sales tactics, we take an educational approach.
To do this, we share all of our insurance expertise through educational articles, videos, and graphics on social media, our website, and emails. We use this educational material to ensure every interaction with those we serve is providing education and value from initial inquiries from prospective customers to conversations with clients we have served for decades.
Insurance is confusing, and often if people are reaching out to us it's because they were told they are required to get a certain type of insurance, they are confused about their insurance policy, or they have experienced a claim - none of which are especially fun scenarios. So if we can be ready to answer their questions and help them navigate their insurance through educational, unbiased material, they will feel at ease and empowered to make their own insurance choices, and in turn will grow to trust us.
We always try to add a fun and relatable spin on every topic and make our materials easily digestible for those who don't eat, sleep and breathe insurance every day.
How are the accounts assigned/spilt?
While our personal insurance accounts are split evenly, we do things a little differently in commercial lines.
Because business range so much in size, we split our accounts into small businesses and large businesses, based on premium. The small commercial lines account manager is assigned the smaller accounts while the large commercial lines account manager is assigned the larger accounts.
How often will I meet with clients in person?
How we interact with our clients is always up to the client, so how often you meet with them in person will vary based on preference. Most clients are perfectly happy communicating through phone or email, but you also may have clients who would prefer to meet in person at every renewal. Typically, our commercial lines account managers can expect an in-person visit a few times per month.
What type of technology does your company use?
While insurance isn't traditionally the most technologically-advanced industry, Berry Insurance tends to stay fairly up to date on technology trends.
For instance, our employees work on a hybrid schedule. That means they all have laptops to bring to and from work, and all the proper equipment to work from home. Our phone system is also able to automatically forward calls to employees' cell phones when they are working from home so they can easily handle client calls as if they were in the office.
Our team also relies heavily on the use of video. In addition to employing a full time video producer who makes educational and marketing videos, our account managers and sales executives are expected to record 1:1 videos via Vidyard to send to clients and prospects, and utilize Zoom for video meetings.
As a team, we communicate often through Microsoft Teams, and our clients are even able to text us through our main number due to a service called Sakari.
Our marketing team manages the website and marketing efforts through HubSpot and posts educational content and updates through social media.
We also work with an IT support company out of Foxborough who keeps us up to date with security and compliance.
We are consistently evolving to keep up with new technology trends, so if you aren't comfortable with technology, you will certainly get comfortable with it if you take on a career at Berry Insurance.
What is Berry Insurance's culture/work environment?
If you haven't been able to tell from our website, Berry Insurance is pretty casual, especially compared to other insurance agencies.
Where you might imagine a suit and tie, you will instead usually find jeans and our Berry-branded (and extremely comfy) t-shirts. Our office dogs Shredder and Rider add some comic relief to the work days, and there is often something exciting going on in the office like a team lunch or goofy video shoot.
As a small team, we are all pretty comfortable connecting with one another and exchanging banter, jokes, and feedback. We have a culture of learning and often participate in communication exercises, book clubs, or other growth-related activities.
Our kitchen is always stocked up with candy and snacks, and we often bond over team lunches from local restaurants, or team outings (such as chocolate walking tours).
However, we are also a hardworking team, so for much of the day while we are all tackling our priorities, the office can have some pretty quiet lulls.
What is your culture of feedback?
Everyone in our company considers themselves educators. And to be an educator, you have to constantly be learning, yourself. And feedback is a critical tool for learning and growth, so it is something we embrace as a company.
And this feedback culture is pervasive even through upper management. Our owners Kaitlyn and Chris are constantly requesting feedback on how we can work better as a team, and how they can better run the organization.
What benefits does Berry Insurance offer?
Berry Insurance offers most of the standard benefits you would receive at any company, including health insurance, a Health Reimbursement Arrangement (HRA), a Flexible Spending Account (FSA) with contributions from the organization, group term life insurance, long-term disability, and a simple IRA plan.
Berry Insurance also offers a generous unlimited PTO policy with a minimum requirement of 120 hours off. We know all our team members have families and busy lives outside of work, so as long as job expectations are being met and time off is properly covered, we want our team to have the flexibility they deserve.
Considering a career with Berry Insurance?
You're still here? Could that possibly mean you're interested? Whether you think this role seems right for you, or are potentially interested in another role here at Berry Insurance, you should probably learn a little more about the company.
You can learn about that more in this article, where each of our teammates shares their opinions on the Benefits of Working for a Small Family-run Insurance Agency.